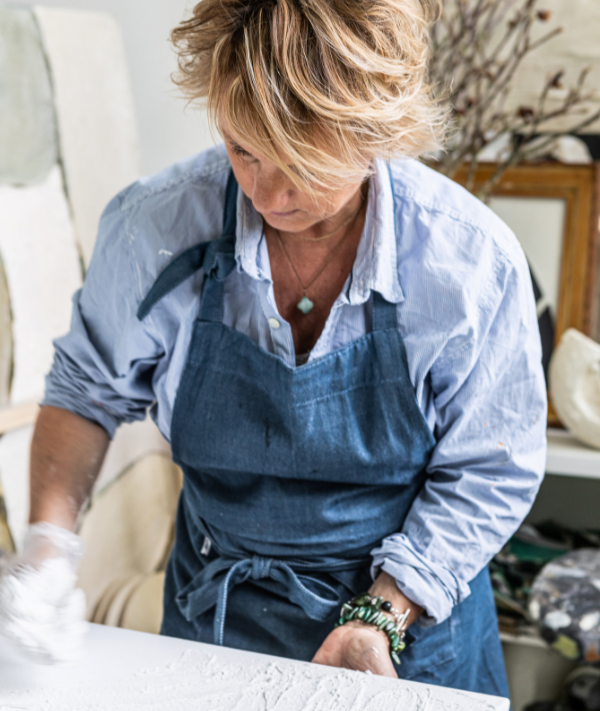 WOMAN BEHIND THE BRAND
Margo van Erkelens
Layer upon layer Margo van Erkelens builds up her often monochromous pieces. The warm, earthly colours meander across her canvas, betraying her mood of the moment. Powerful, inquisitive, at times a little impulsive. But at the same time her paintings look subdued and vulnerable, almost tender. That feeling, that atmosphere is important to Margo; it arises almost by itself as she paints.
The smell of the salt water, the hot sand under your feet and the wind scraping your face. The sea and the coast are inextricably linked to the childhood of visual artist Margo van Erkelens (1969). She has taken that island atmosphere, the seasons and colours into her heart. This is clearly visible in her work.
During the setup of the many layers of paint all kinds of things happen, the painting process seems to have taken over from her. She glues, smooths, heats, tears, breaks down and builds up again, often without a predetermined goal – Margo works intuitively. For her it is the ultimate letting go, letting things happen and not steering anymore; a pure experience of colour and form. Only in the final, lighter layers the canvas gets a definitive representation.
MY STORY
Art for the mind
Margo explores the possibilities of her material and experiments with new forms. Nature always plays an important role in this: the changing of the seasons, the mortality and imperfection of man and landscape. Her portraits lose their faces, but never their expression. It makes them even more poignant.
Her landscapes are also becoming more abstract. As if she wants to capture human intervention in nature from above, Margo shows the layers of the Dutch landscape. She zooms in more and more. Only the details, some fragments remain.
Margo has her own loyal group of admirers. She sells nationally and internationally through various art galleries. She also works together with renowned interior designers and has her own art gallery at home, where you are more than welcome to visit.